Hi there! I wanted to share a few baby gift items that you can gift to any expectant parents that will for sure make them go "ooohhhh" and "ahhhhh…" TRUST ME, there's nothing more embarrassing at a baby shower than when two people have brought the exact same onesies…oops! I have two major NO'S when it comes to baby-shower gifts. The first, I DON'T like to gift clothing because everyone has different tastes (you may like bright colors, but they might like muted tones). You don't know the size of the baby until they are born (some babies don't use newborn size or are more comfortable in 3 month old clothes) and they out-grow clothes so quickly, so pass! Second, I DON'T like to gift personal products like; lotions, shampoo, conditioner, perfumes, and butt cream. I have come to learn that while everyone seems to reeeeally like Johnson and Johnson, this MAY not be what the expectant parents plan on using for their little ones.
Also, another annoying thing at baby showers is when that one parent gifts something that worked for their baby so they guilt-gift them something with the phrase "you're gonna thank me later for it…" SMH! (Hasn't anyone heard that NO two babies are alike!) A quick side-story to tell you, one time I was at Target buying diaper rash cream for my baby when another mom looks at the one I grabbed and grabs another brand and says to me "Oh, you should get THIS one instead. I've used it for all my babies and they NEVER got a rash" I politely said that I trust the one I had, and thanked her for her recommendation. (But in reality, I was annoyed. Did I ask her for help? Did I ask for HER opinion? No!) PLEASE DON'T BE THAT PARENT. Unless they ask for your recommendation, don't assume you know all the answers.
Ok, now that I've hopefully inspired you to NOT be that parent, let me show you some really awesome gifts that will for sure be remembered, treasured, loved, and most importantly, will make baby happy!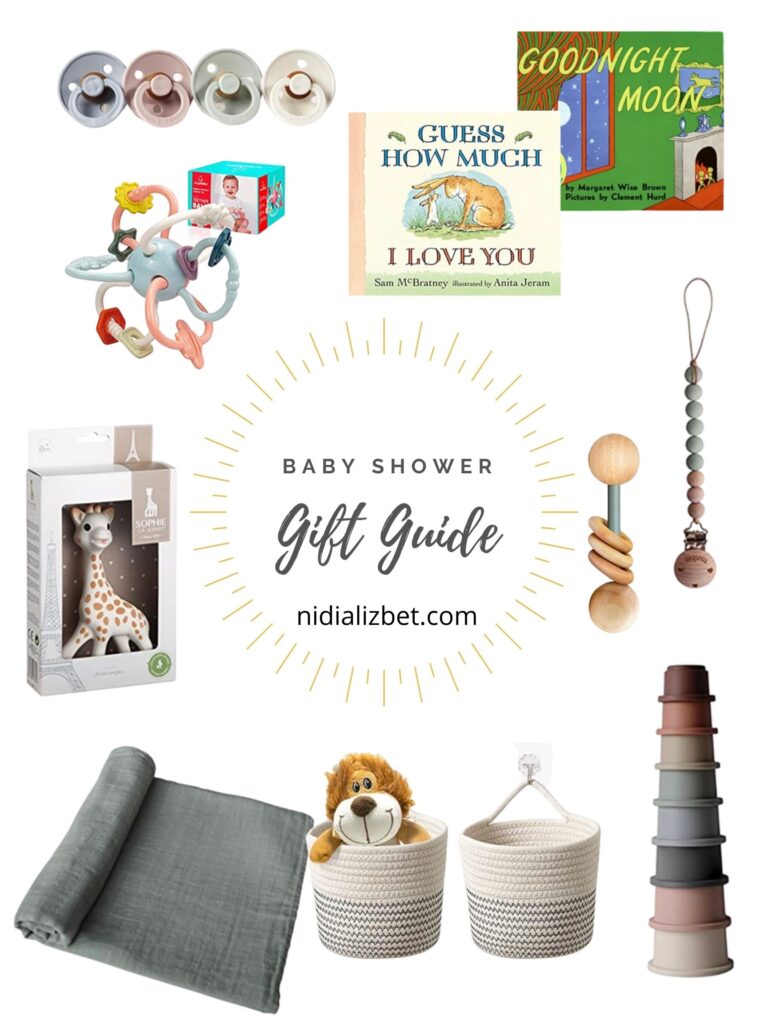 Books are a definitive yes! Not only do books bring joy, but they inspire and promote early learning Side note, write a note or wish for the baby in the front cover instead of using a card. (If that same book gets gifted by someone else, they will most likely donate the extra book, BUT keep the one with the hand-written note.)
Muslin swaddles. These are the ONLY breathable blankets that are SAFE for baby. I've had several kinds of swaddles in the past, but ONLY the muslin ones allow airflow through them when I press my nose and mouth on it. There's nothing scarier than when someone gifts you an ultra thick, ultra plush, ultra glittery, ultra synthetic, ultra hot swaddle. You can ask the parent for any theme preference (sports, animals, food, nature) but I ultimately prefer the solid color ones. I also suggest that you stay away from anything with frills or things dangling (other than the tag of course.) A muslin swaddle will keep baby safe and happy and give the parents peace of mind.
Baby teethers. All babies drool at some point so why not give them something they will absolutely love and help ease the discomfort? Sophie the giraffe is probably the most sought after toy by parents. Why? Because it's so darn cute! For reals though, babies love her! She's so soft, she squeaks, and is so easy to clean. A win for both baby and parents.
Baby rattles. Because things that make noise are so much more interesting to play with. I added two kinds of rattles; a wooden Montessori-style, and the Angelbliss sensory one. The wooden Montessori-style one is classic, beautiful, and will keep babies engaged. Bonus that it can be used as a prop for baby pictures and it won't be a random, eye-sore looking toy in the picture. The Angelbliss sensory one is perfect for little ones because it has a textured surface so it acts as a teething toy! Bonus that it can be sterilized because well, babies put everything in their mouths.
Paci's. and pacifier clips. This one might be one of those items that you should consult the parents before buying. With so many different options, parents CAN'T be sure which paci their babies will use. So, its best to stay away from paci. (I included my top-favorite pacifier brand, but I won't try to talk you into buying them…I'm not THAT mom) However, a pacifier clip is something they will most definitely use as it can be used for MOST pacifiers. Bonus that it can also be used to clip smaller teething toys. There's nothing worse than when the baby starts playing the "drop everything on the floor" game. Another thing to look for in a pacifier clip is to make sure it is safe for baby to chew on. This one specifically works as a teething toy, so two points for that! Stacking cups. All babies love stacking toys! This one specifically is my favorite for its muted colors, fun design, and it's safe for baby to chew on. Bonus that this one is safe to use for bath time! Another great thing about this one is that it stores so easily… another great use for this toy!
Baskets. Lastly, I include baskets in my gift guide because let's face it…that cute, Noah's Ark bag you bought to store your gift in will only end up taking room in a closet, end up in the trash, or for those with better luck, will get re-gifted. Presentation is key! Baby items are so adorable, why let them fall to the bottom of a large bag? Use a basket filled with tissue paper on the bottom and then display the items on top. If you prefer, you can "close" the basket with white tulle but please don't get carried away with bright designs or add-ons to the basket. Generally, you want the basket to be used for storage or décor so stick to neutrals, and one with handles, or hooks. This specific set I included already has the hooks! How cool is it that your gift basket will also be used to store toys, books, diapers, bows, shoes, and more! Trust me, skip the bag.
Ok, now that you've read this far, I would love to you're your opinions on my gift guide! Tell me which gifts you have received in the past that made you second-guess sending that 'Thank You' card. Or, if there is something that I may have missed, please feel free to share! Thanks again for reading and for your support!