Q tips or cotton swabs? I grew up calling them Q-tips. Either way, I'm sure you have some laying around the house! I'm going to show you how I turned a simple, plain, cotton swab into a fun, colorful, counting game for my toddler. This game focuses on basics like numbers and colors, but also focuses on understanding number sequence, and matching! It's perfect for practicing his hand-eye coordination and fine- motor skills. He absolutely loves it and momma loves how quietly we can play together or alone while I clean… I'm sure your little one will love it too! Caution; be prepared for your toddler to ask for this game over, and over again…they really do enjoy it! Ok, let's get started!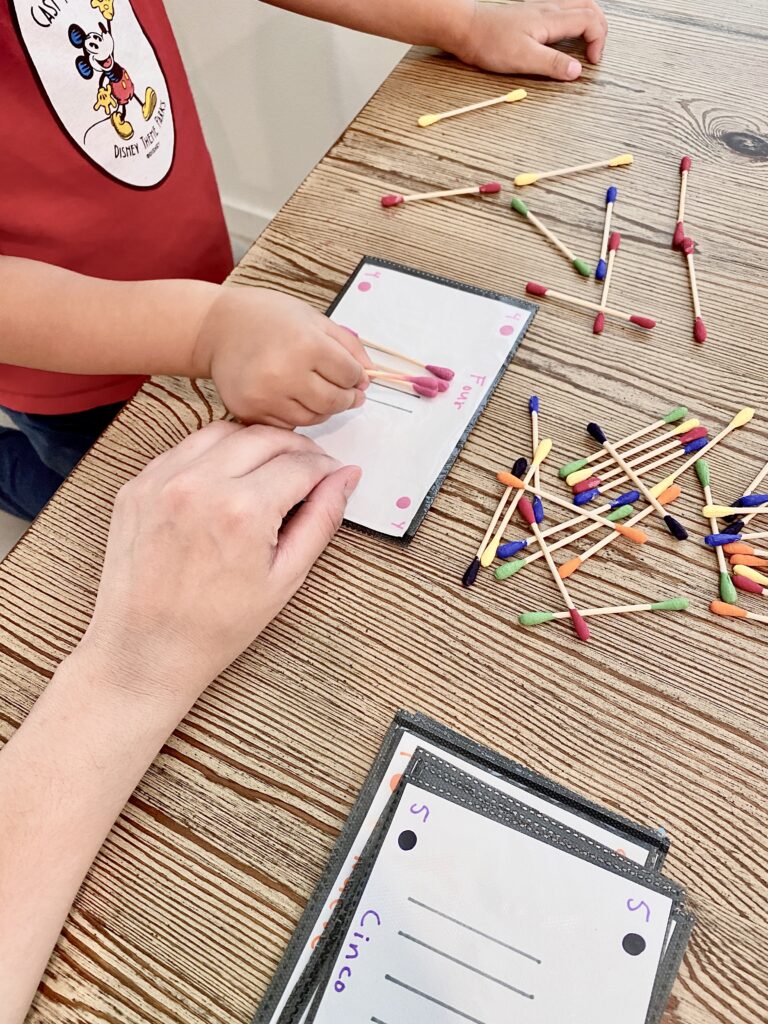 Gather these items:
Cotton swabs -grab at least 70 (I used these bamboo ones because the cotton doesn't fall off as easily)
Acrylic paint- must have at least 10 different colors.
Parchment paper- to let cotton swabs dry (you can also use a paper plate)
White construction paper (you'll need to cut 10 rectangles of 4 x 6")
Scissors –to cut the rectangles and the photo sleeves.
A marker- to mark the lines on the paper (I used at least 10 different colored thin markers)
A small ruler – to mark the lines (or just use the side of a credit card)
An unused photo album- (Mine was a 4×6" album, but whatever album you used, make sure you cut the rectangles according to the size of the photo sleeve.

Instructions:
I started by cutting the construction paper into 4x 6" rectangles. I only cut 10, but you can cut more if you'd like to teach additional numbers above 10.
For each rectangle, I added the number in each corner, the English word on top, and the Spanish word on the bottom. (You can use whatever second language you want to teach your little one! Hooray for bilingual kids!)
Then I used a small ruler to make a line in the middle that corresponds to the number on the card. Repeat until you've done all 10 numbers.
Next, choose 10 various colors for each corresponding "number card." (For number card 1, I chose light blue, number card 2, I chose light purple, number card 3, I chose teal, number 4 I chose pink, number 5 I chose violet, number 6 I chose blue, number 7 I chose green, number 8 I chose yellow, number 9 I chose orange and number 10 I chose red.)
For each cotton swab, I found it easier to pour the paint onto the lid of each acrylic bottle and simply dip the cotton end portion in the lid full of paint. I gently moved the cotton swab around to ensure the cotton part was saturated with paint. I then flipped the cotton swab quickly and dipped it into the lid as well. Once both sides had paint, I let them dry flat on a piece of parchment paper.
Repeat dipping the cotton swabs in lid-filled paint until you have used all 10 colors and its corresponding number of cotton swabs. While you let those dry, I moved on to cutting the photo sleeves.
Very carefully cut alongside the perforated edges. (If you accidentally cut through, simply use clear tape and now its sealed again!)
Once cotton swabs are completely dry, carefully remove from parchment paper.
Assemble your number card inside a sleeve and now you are ready to play!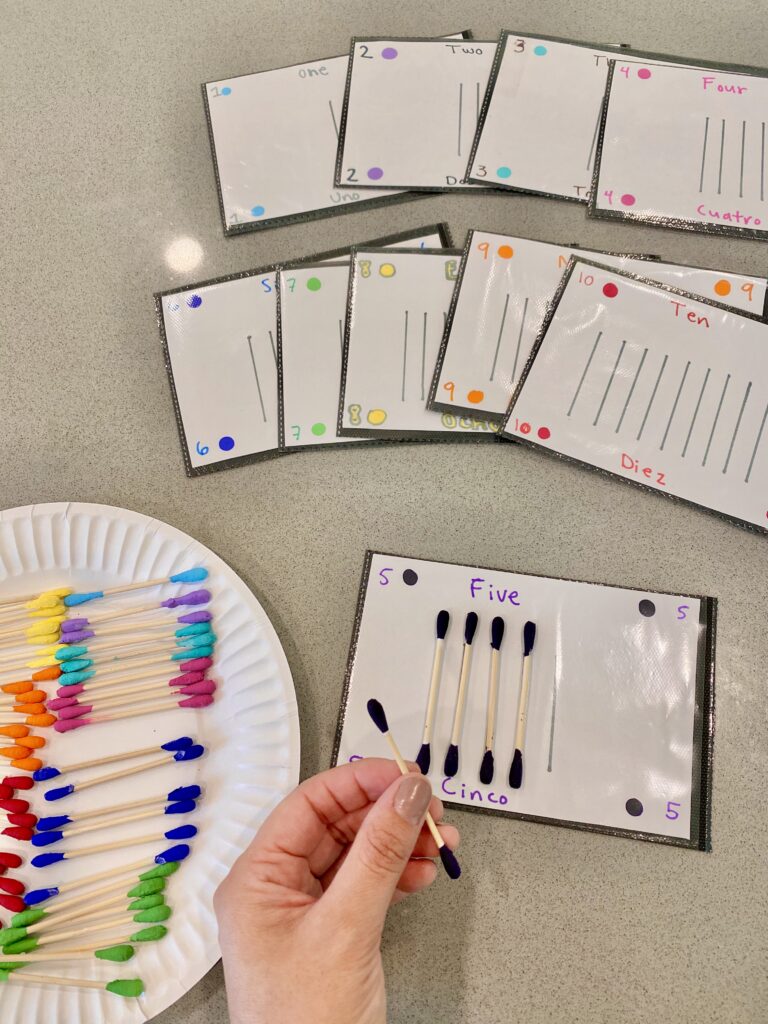 OK, so how excited are you to have some much needed quiet, I mean, quality time with your little one?! I promise you that you'll enjoy seeing their happy faces as they learn to recognize colors, numbers, and learn to count as well! Once your little one gets older, you can integrate addition and subtraction with the cotton swabs. (I'm not there yet, but I will for sure keep this game at hand when the time comes) and I've also seen pattern matching using cotton swabs! (I'll have to try that one too!)
Let me know if you've done this game before, or if you have another activity you do using cotton swabs! I'd love to try them out! Please share this post with others so they can join the fun Thanks again for all the support!